Utecube Express 400L - Fuelchief.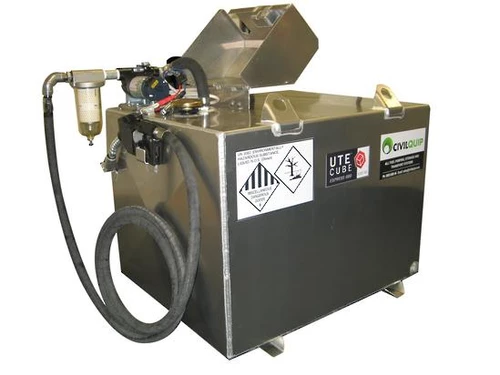 The mid-scale of the Utecube Express models is the Utecube Express 400L. This tank takes the refuelling needs of businesses to the next level. With a sturdy and compact holding capacity and made from a stainless steel durable material the Utecube Express 400L can face the toughest conditions.
The Utecube Express 400L is becoming sought after due to machinery tanks increasing in size. Remaining compact the Utecube still remains snugly fit in between the wheel arches of most common utes and offers good visibility through the rear window to ensure peace of mind. Find out more about the Utecube express today by contacting us.
Utecube Express 400L features:
Capacity:

400L
Powerful flow:

40 LPM flow rate with 12 volt pump and cables. Supplied with sturdy battery clips for connection.
Compliant:

the tank has been pressure tested to ensure quality and compliance.
Durable design:

high-grade aluminium (steel storage tank) design for durability when on the ute and on-site
Easily transportable:

full load lifting eyes for tying down on the ute or placement on-site
Surge proof: internal surge baffles to prevent fuel surge during transportation
Custom delivery outlets:

4m delivery hose and nozzle (various sizes available)
Custom pumping solution:

range of pump options to suit your requirements
Secure placement:

due to tank base skids
Storage:

can store diesel
Upgrade options:

hose reels, digital flow meters, lockable pump cover
Warranty:

12 months
Utecube Express 400L Package Options:
The Utecube 400L models have different configurations to suit your needs. There's also a Utecube Express 250L and Utecube Express 600L. Below are the options:
FCAUT400-12-40

– Utecube Express 400, 12v, 40LPM
FCAUT400-12-60

– Utecube Express 400, 12v, 60LPM
FCAUT400-12-24-60

– Utecube Express 400 with Panther 12/24V Pump/Wiring
FCAUT400-12-80

– Utecube Express 400, 12v, 80LPM
FCAUT400-24-80

– Utecube Express 400, 24v, 80LPM
Enquire about this product