Fuelchief Sebco 200L Poly Diesel Tank.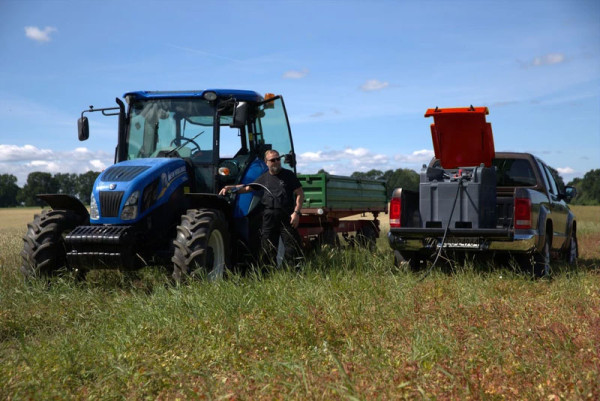 The Fuelchief Sebco 200L Poly Diesel Tank is the perfect option when it comes to storing diesel fuel. It is the safe and economical option that is harmless to the environment. This is a reliable option for the safe storage and dispensing of diesel oil for a variety of industries including transport, construction and agriculture. The Fuelchief Sebco tanks save you time as you do not have to waste it on unnecessary breaks in production as you will always have the diesel at your disposal whenever you need. The impressive modern Splash Wall system reduces fluid movement during transport, making transport easy and much safer.
There are many benefits of the Fuelchief Sebco tanks for a company, these include your business taking advantage of:
An opportunity to transport diesel oil quickly and safely
No unnecessary downtime
Makes it possible to supply diesel oil directly to where the machines work
A splash wall – a system reducing fluid movement during transport
Having a buffer storage solution and use during dynamic price fluctuations
High level of security for the transported fuel thanks to the durable structure
Our Fuelchief Sebco tanks are designed to be durable and for situations where the tank will be subject to frequent relocation and where increased lifespan is of importance.
Features of the Fuelchief Sebco 200L Poly Diesel Tank:
Capacity:

200L
Draw fluids easily: long and convenient dispensing hose makes it easier to draw fluids from the tank
External dimensions: 800 x 1070 x 580mm (w,d,h)
Storage options:

diesel fuel only
Flowmeter with calibration:

K24 counter equipped with 4-digit display and 6-digit total counter
Longevity and durability:

constructed from weather-resistant polyethylene
Suits a variety of industries:

holding capacity allows for substantial storage, great for agricultural, transport and construction companies who need to fuel onsite
Great for Utes:

can be placed securely at the back for immediate use
Automatic pistol:

comes with fixed place for nozzle in tank when not in use
Easy maneuvering:

4 large lifting eyes
Automatic nozzle: automatic dispensing nozzle with a 3-step nozzle lock enabling user-free filling
Efficient pump:

a 12-volt pump with a 50 L/min velocity
Easy access for maintenance and measuring:

top access
Warranty:

12-month warranty
The Fuelchief Sebco also comes in a 400-litre diesel tank.
Enquire about this product