Kinsman Contracting.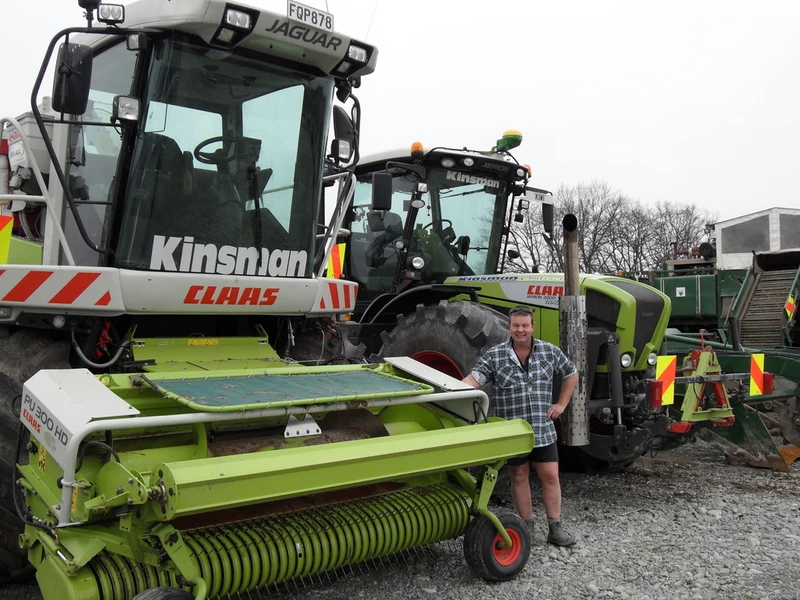 Kinsman Contracting is a company based in Temuka and has been a client of RDP Petroleum for over two years. The contracting business operates throughout South Canterbury and has three sites in total, the main one in Temuka, also Waimate and St Andrews. Kinsman Contracting operates a number of different machinery, with the main services they provide being grass silage, bailing, cultivation and potato harvesting.
Operating such large machinery, including 11 tractors and 15 trucks, makes them very reliant on an efficient fuel supply. The owner Grant Kinsman acknowledges that having a reliable fuel supplier is critical to the operation of the business as there can be times that the machinery is going full on, especially in the seasons when they are harvesting. The larger machines can go through 1000 litres of diesel in a 12 hour shift. The silage part of the business also operates at night, so the fuel needs to be there where they need it, when they need it.
When Grant was asked the main reason he stays with RD Petroleum, his response was "The pricing is great but at the end of the day it all comes down to service for me and that is why I stay with RD Petroleum, your service is brilliant"
Lyndon Knight is the Mid/South Canterbury RD Petroleum Territory Manager, and he looks after Kinsman Contracting. "Lyndon's service is unreal. I can ring him any hour of the day or night. He is great at keeping in contact, and I like his proactive style. Whatever I need he makes it happen, and the reality is that's why I am so happy with you guys" Grant also commented on the two RD Petroleum tanker drivers that he deals with "RDP drivers Barry & Dougall are awesome guys, they will go out of their way to help you, and I like dealing with them".
Kinsman Contracting uses the new 10,000 litre Enviro bulker tank as well as some trailer tanks. Having the ability to store fuel on-site and also transport it helps bring the costs down, especially due to the fact there are three sites. They are currently building a new workshop and storage facility in the new yard in Temuka, which will help store some of the large machinery and vehicles.
RD Petroleum prides itself on competitive pricing and providing a consistently high level of service. Building strong working relationships is something that RD Petroleum strives for, so it is always pleasing to hear such positive feedback.