McDermott's Coachlines.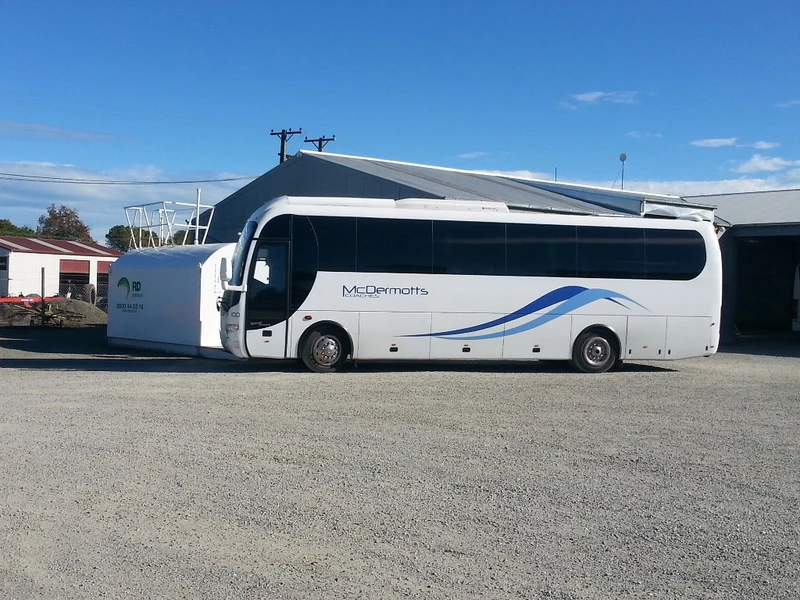 McDermott's has been a customer of RD Petroleum since 2008 and they operate two sites; one in Winton and the other in Invercargill. With operating large vehicles such as coaches and hiab trucks, there is a significant dependence on diesel, with the bulk supply stored in two tanks- a 40,000 litre tank in Invercargill and a 10,000 litre tank in Winton.

Nicola Wilson is the daughter of the original owners and she is based in the Winton office. We sat down with Nicola for a coffee and to asked her some questions about the relationship McDermott's has with RD Petroleum.
Peter McCallum, our Southland Territory Manager, is the company's representative looking after McDermott's. Nicola acknowledged that Peter does a great job of managing their account and is always available when needed.

'When we first become an RD Petroleum customer, you removed the old tanks for us and installed the new ones in there. Also, the fuel guard management system that was recently installed on the large tank in Invercargill, works really well as we really needed an update'.

From small beginnings, McDermott Coachlines has grown to be a dynamic regional passenger transport operator and now has a fleet of over 90 vehicles. The company has been a part of the Southland community for some time beginning with one school bus run back in 1968 from Centre Bush. Since then they have grown to a considerable size and now, with having such a large fleet, they are reliant on a dependable bulk fuel supply.

'I have no complaints about RDP. We are quite happy dealing with Peter and have known him for many years, even before he was working for RDP. We also find dealing with Craig Demler (RDP Operations Manager in Chch) easy and with things like Health & Safety and all the documentation required, he sorts that out for us. The drivers are great too and they all know what we need as usually we are on an auto-fill at the start of the month, but that may vary depending on things like school holidays'.

RD Petroleum prides itself on the service it provides and it's always reassuring to hear such positive feedback.